How To Launch Your Online Marketing Like Iron Man

I recently received an email from Fandango, a company that promotes movies and sells tickets online. This email included a strange announcement about the new Iron Man film that read "Iron Man 3 Trailer Coming Soon: Help Us Unlock It". That line made me curious enough to follow the links to the Iron Man 3 Facebook page where they had set up an ingenious method of firing up their fans before the release of the very first movie preview. Facebook users were asked to "like" the page in order to make a graphic meter slowly rise until it achieves their undisclosed goal and reaches 100% capacity, then they would release the trailer.
This brilliant promotional technique works well for the "Iron Man" brand due to their established fan base. The chance to see the first trailer of the film is enough of an incentive to get their die hard fan rounding up and encouraging other, not-so-die-hard fans, to participate in this promotion and get the new trailer unlocked. In the mean time, the Marvel/Iron Man marketing team is rapidly building an opt-in audience that they can send repeated advertising messages to in the coming months in order to entice them into the theaters.
With the current Facebook "likes" at over 10 million, I'd say that it is a smashing success.
What Is Iron Man Doing Right?
So what can we learn from Iron Man? No, not how to fly around in a metal suit and battle evil. Iron Man is showing us that using a strong social media call-to-action and incentive can fire up your current fan base to help introduce your business to new customers. Viral marketing at it's finest.
I'm Not Making A Movie. How Does This Apply To Me?
Ok, may not be a super hero or a movie star, but you can use these marketing techniques can help grow your own social media audience.
Let's put this into some real-world small business examples. Perhaps you are a public speaker or consultant. You can use this type of "teaser" social campaign to grow your followers by releasing a section of your new book or e-book once you reach a predetermined number of new followers. What type of information could you give away as an incentive for free promotion?
Let's say that you own a chain of florist shops. You can use a similar promotion to announce that if you get 5000 "likes" on your business page, you will donate 10 floral arrangements to families of soldiers returning from war. Your current customer base will certainly help support you when you are doing something good for our military and first responders. Get those creative juices flowing and come up with some other ways to use your social media promotions to help you support your community and grow your audience at the same time.
The sky is the limit. The Internet is about freely exchanging information and ideas – not about mass advertising. If you find a clever way to share an exciting bit of content that creates a social buzz , just like Iron Man did, your social media audience will grow into a large group of new business prospects and rapidly improve your brand awareness.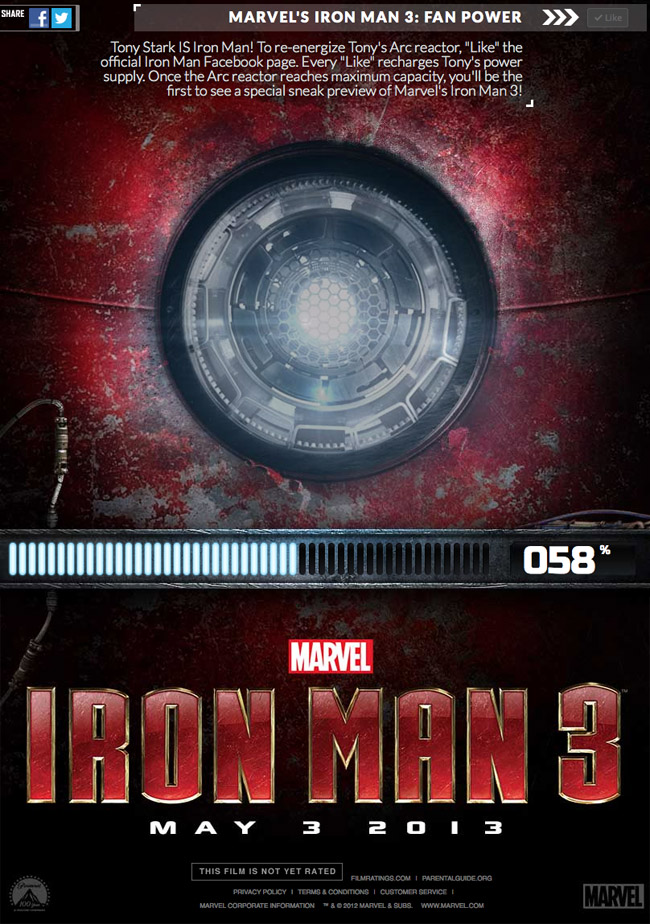 Let's Do This Together.
Our digital newsletter is full of actionable news and information you can apply to your business. Sign up today!
Sharing Is Caring.
Share this post with all of your contacts by using the social sharing links below.
To Go Fast, Go Alone. To Go Far, Go Together.
Are Your Ready To Take The Next Step? Drop us a line today for a free consultation.
Apache Interactive
Kingwood Texas
832.971.4905
Info@ApacheInteractive.com

Who We Are And What We Do
Apache Interactive is a digital marketing agency specializing in technical SEO, online advertising (PPC), content marketing, and web design and development services.
We work directly with client companies, and also partner with other marketing and branding agencies that want to have a digital marketing expert on call to assist with challenging projects.
The Internet is a big place and we love to hang out on all of the major social networks.
Follow our accounts and never miss any of our photos, videos, or other digital marketing mayhem.